WE PLEDGE TO PROVIDE THE VERY BEST THAT MODERN DENTISTRY HAS TO OFFER
At the cosmetic dentistry practice of Dr. Ronald B. Dinning, we have witnessed firsthand the power of a healthy, attractive smile. Having a beautiful smile, one that you can feel proud of, does more than just improve your appearance ­ it can improve your life. That's why we're dedicated to providing exceptional general, restorative, and cosmetic dentistry treatments to all of our patients. With over 25 years of experience as a cosmetic dentist, Dr. Dinning has a keen eye for complimentary aesthetics, and has helped hundreds of patients gain confidence through their smiles.
We believe that dental care is more than just a service, it's an experience, and we embrace this philosophy in every area of our practice. Our use of advanced technology and treatment techniques, as well as sedation dentistry methods, allows us to provide patients with safe, comfortable, and convenient dental care. Our unwavering attention to our patients' comfort and needs has made us a preferred dental office on the west coast since the 1980s. Rest assured, we will take every measure to ensure your satisfaction and oral health.
Philosophy of Practice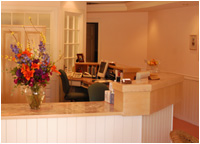 Our Priority? Our Patients!
At our cosmetic dentistry practice near Montecito and Santa Barbara, our patients are our first priority. We strive to provide every patient with comfortable care, excellent customer service, and an overall positive experience. We will personally meet with you in our Santa Barbara office to discuss your cosmetic dentistry hopes and needs and work with you to create for you the smile of your dreams.
Dr. Dinning and his staff believe that the job of a cosmetic dentist is to provide patients with the healthy mouth and attractive smile that enhances one's quality of life by increasing confidence, self-assuredness, and physical beauty. This is what drives us to excel in all aspects of cosmetic dentistry at our Santa Barbara practice.
We pledge to provide the very best that modern cosmetic dentistry has to offer to our Montecito and Santa Barbara patients, and we invite you to explore the many options that we offer. Please contact our office today! Our cosmetic dentistry office is located between Santa Barbara and Montecito near the Andre Clark Bird Refuge on Cabrillo Blvd. There is easy freeway access and plenty of free parking.
Our Team of Experts
You may be our patient, however, we like to think that we are your cosmetic dentistry staff. We are proud of our caring and professional staff. Our two dental hygienists and friendly office staff are all willing to go the extra mile to ensure that your experience with us is a positive one. We know how precious your teeth are, so we guarantee the utmost safety and modern care. Rest assured that you will be in good hands at the dental offices of Dr. Dinning.
Kois Center is a post doctoral dental continual education center of which Dr. Dinning is now a Distinguished Mentor. This means he teaches and trains other doctors going through the program the advanced principles and techniques of dentistry. Dr. Dinning is always up to date on the latest in progressive dental technology so that he is able to offer his patients the best, least invasive, procedures and techniques.
American Academy of Cosmetic Dentistry Certified
Dr. Dinning excels in working with patients on a one-on-one basis to develop treatment plans that provide them with not only a lifetime of beautiful smiles, but optimal health as well. If you are searching for a dentist whose care is as personalized as it is effective, we invite you to explore our site and contact our Santa Barbara office to learn more about our patient-centered atmosphere and comprehensive treatment options. We look forward to making you smile.
Testimonials
We're in the business of creating winning smiles at our cosmetic dentistry practice. We've helped hundreds of patients across the west coast transform their lives by transforming their smiles. Hear from some of our most satisfied patients.
Read Recent Articles
Compendium - April 2013, Volume 34, Issue 4
Published by AEGIS Communications - Interdisciplinary Restoration of a Class II, Division 2 Malocclusion
Written by Ronald B. Dinning, DMD; and Raymond G.W. Kubisch, DDS, MSD